Techsol is proud to announce Qt Embedded for the TPC-43C Medallion Touch Screen Computer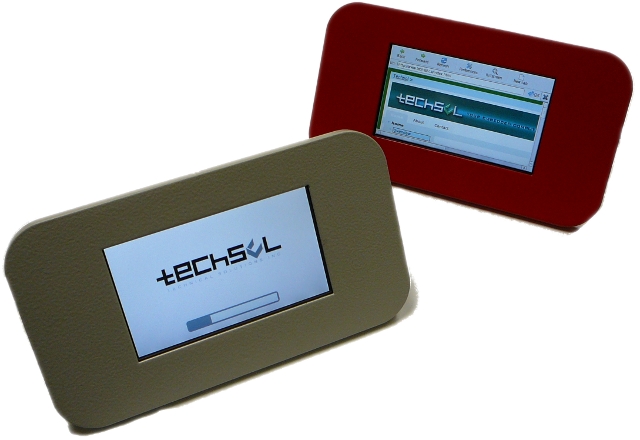 Delta, British Columbia, Canada - June 2, 2011

Techsol is now offering both Qt and Qt Embedded on its TPC‑43C, a low carbon-footprint computer with a Color TFT LCD and Touch panel plus Power-Over-Ethernet, targeting Building Automation and factory HMI (Human-Machine Interface) applications. This standard, off-the-shelf, ARM-powered, wall-mount, product features:
WqVGA (480x272) 4.3", Color, TFT LCD Panel in Landscape format, with 65,536 colors, adjustable LED Backlight, and Touch panel
Powered by a standard Medallion CPU Module (an SA2410-650 is included) for flexibility, the 32-bit ARM9 processor features 32 kB of cache, 64 MB of SDRAM, and 128 MB or more of NAND flash, plus a separate NOR flash for reliable bootloader and SW update options
Power-Over-Ethernet (POE) dramatically reduces installation costs.

Replace power cables with a single CAT 5 cable for both power and Ethernet.

Power options: 10 - 30 VDC or 7 - 24 VAC or POE
Low-power, passive cooling enables fanless operation

Typical power consumption with 12 V in, with LCD & Backlight ON is < 200 mA @ 200 MHz (full-speed)
To reduce power consumption, software can turn the backlight ON/OFF and control the brightness

Low-power, Real-Time Clock (RTC) with Battery Backup included
Hidden Memory Card Connector for Secure Digital (SD) and MultiMediaCard (MMC) (for user-upgradeable storage expansion)
Full-speed, USB Host ports (USB Type A connectors) supports Wireless Expansion, such as 802.11 or Bluetooth
Fast Ethernet (10BaseT/100BaseTX) interface with RJ-45 connector featuring integrated LED status indicators
all connections exit the rear, unlike PC-based products whose connectors point into the drywall
SW-controlled beeper with frequency/tone control are standard
RS232 serial interface on optional DE-9 adapter to accelerate SW development
Ships with the proven Medallion Linux 2.6.3x plus drivers pre-installed.
Dimensions: Width: 178 mm, 7" Height: 100 mm, 3.95" Thickness: 9 mm, 0.4" from wall (Over all: 33 mm, 1.3")
Mounting: This unit sits in a recessed hole in the wall or instrument panel. It is held in place by magnets which clamp to a wall bracket (supplied). It requires a recess of only about 1" (25mm).
GUI options include:

Choice of Qt on X or Qt Embedded, for full PC compatibility
Linux Framebuffer (FB), operating in 16-bit, 65,536-color mode
X11 (Xorg) on FB for standard Linux/Unix graphics
FLTK on X, for a full-featured, extensible, yet free GUI
GTK+ on X, another option for PC compatibility
Ask about Web Browser Support as we offer a few options there
Although GTK+ has been the dominant embedded GUI for years, interest in Qt has grown since its acquisition and "liberation" by Nokia. Many programmers want to use Qt Creator to develop their GUI APPs on PCs. To meet this demand, Techsol offers both Qt Embedded, which has a small memory footprint, and "Full Qt" which uses the X Window System (X), allowing other GUI apps (X clients) to run on the screen as well. Development kits are available with an assortment of GUIs and demo programs to match.
As for the TPC-43C, "The robust enclosure is made from recycled steel.", said Brian Empey, P.Eng., CEO of Techsol. "It's welded and then powder-coat painted for a durable finish. Compared to a plastic enclosure, this offers the advantages of sustainable materials and a reduced carbon footprint, as steel production consumes less energy than alloys or plastics."
Pricing for units with all options except wireless & debug cable:
| Order Quantity | Standard* Unit Price in $ |
| --- | --- |
| 10 | $425 |
| 100 | $385 |
| 1,000 | $345 |
| 10,000 | $300 or less, contact us for a quote. |
*Standard configuration includes 200 MHz processor speed; 64 MB SDRAM; 2 MB NOR FLASH; 128 MB SSD; other configurations are priced accordingly.
Every unit is tested running Linux before it ships! Single units of the TPC-43C are available as development kits with full SW development tools and support. Call for pricing.
Development kits are available from stock. Production volumes are typically available in 6 to 8 weeks.

Embedded Engineering is the same all over the world. Engineers face the same challenges of having too much to do, and not enough time or money to do it with. Techsol's Medallion CPU modules address this issue and provide a solution that extends into the production stages of a product, not just the proof-of-concept stage like most SBCs.
Techsol's Medallion system is unique in the embedded computer world. The Medallion Single-board computer product line encompasses multiple CPUs, and different configurations with the same CPU. However, the pin-out and form-factor remain the same. There is one Medallion module that is best matched to your application.
By designing with the Medallion system, you are effectively out-sourcing your CPU design and Linux porting with no up-front NRE fees! That lets your team concentrate on the hardware and software portions of your product that your customers see. The result is that you can create a higher-quality product in a fraction of the time (and cost) of designing everything yourself from scratch! Plus, the interchangeable modules extend product life-cycle times.

For more details, or to request further information, please visit our Web site at <medallionsystem.com>, call 888 TECHSOL (888 832 4765) or 604 946 8324, or e-mail <sales@techsol.ca>.
Techsol is headquartered in Delta, British Columbia, Canada, where the mighty Fraser River meets the Pacific Ocean.