Techsol Product Announcement: TPC-43B Medallion Touch Panel Computer with POE
Techsol is proud to announce the TPC-43B Medallion Touch Panel Computer.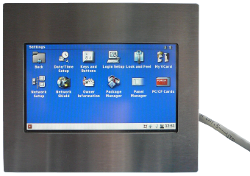 Delta, British Columbia, Canada - July 8, 2009

Techsol is now offering an extremely cost-effective computer with a Color TFT LCD and Touch panel plus Power-Over-Ethernet, targeting Building Automation and factory HMI (Human-Machine Interface) applications. This standard, off-the-shelf, ARM-powered, wall-mount, product features:
WqVGA (480x272) 4.3", Color, TFT LCD Panel in Landscape format, with 65,536 colors, adjustable LED Backlight, and Touch panel
Powered by a standard Medallion CPU Module (an SA2410-650 is included) for flexibility, the 32-bit ARM9 processor features 32 kB of cache, 64 MB of SDRAM, and 128 MB or more of NAND flash, plus a separate NOR flash for reliable boot-loader and SW update options
Power-Over-Ethernet (POE) dramatically reduces installation costs.

Replace power cables with a single CAT 5 cable for both power and Ethernet!

Power options: 10 - 30 VDC or 7 - 24 VAC or POE
Low-power, passive cooling enables fanless operation

Typical power consumption with 12 V in, with LCD & Backlight ON is < 200 mA @ 200 MHz (full-speed)
To reduce power consumption, software can turn the backlight ON/OFF and control the brightness

Low-power, Real-Time Clock (RTC) with Battery Backup included
Hidden Memory Card Connector for Secure Digital (SD) and MultiMediaCard (MMC) (for user-upgradeable storage expansion)
Full-speed, USB Host port (USB Type A connector) supports Hidden Wireless Expansion, such as 802.11 or Bluetooth
Fast Ethernet (10BaseT/100BaseTX) interface with RJ45 connector featuring integrated LED status indicators
SW-controlled beeper with frequency/tone control
RS232 serial interface on optional DE9 adapter to accelerate SW development
Ships with the proven Medallion Linux 2.6 plus drivers pre-installed!
Dimensions:

Width: 129 mm, 5.1"
Height: 111 mm, 4.4"
Thickness: 28 mm, 1.1"

Mounting: Even though the unit covers a 2-gang electrical box, the power and Ethernet are on one side, so it can be mounted to a 1-gang electrical box.
GUI options include:

Choice of Qt on X or Qt Embedded, for full PC compatibility
Linux Framebuffer (FB), operating in 16-bit, 65,536-color mode
X11 (Xorg) on FB for standard Linux/Unix graphics
FLTK on X, for a full-featured, extensible, yet free GUI
GTK+ on X, another option for PC compatibility
Ask about Web Browser Support
"The cost-savings from using POE (Power Over Ethernet) are substantial, particularly in industrial environments and metal buildings." said Brian Empey, P.Eng., CEO of Techsol. "Compared to getting the electrical contractor out to run power and communications lines to the location of each HMI unit, with POE you just run a single CAT 5 cable and you're done. And since it's "low-voltage" per the NEC, you usually don't need a certified electrician. In fact, your IT person can normally take care of this for you, often saving hundreds of dollars per unit installed."
Not surprisingly, Techsol has already developed some products that use POE for its clients, so that technology is field-proven, and the rest of the design is derived from the popular TPC-43A.
Pricing for units with all options except wireless:
| Order Quantity | Unit Price (standard 200 MHz speed) |
| --- | --- |
| 10 | $439 |
| 100 | $399 |
| 1,000 | $369 |
| 10,000 | Please contact us for pricing! |
Every unit is tested running Linux before it ships! Single units of the TPC-43B are available as development kits with full SW development tools and support. Call for pricing.
Development kits are available from stock. Production volumes are typically 6 to 8 weeks.

Embedded Engineering is the same all over the world. Engineers face the same challenges of having too much to do, and not enough time or money to do it with. Techsol's Medallion CPU modules address this issue and provide a solution that extends into the production stages of a product, not just the proof-of-concept stage like most SBCs.
Techsol's Medallion system is unique in the embedded computer world. The Medallion Single-board computer product line encompasses multiple CPUs, and different configurations with the same CPU. However, the pin-out and form-factor remain the same. There is one Medallion module that is best matched to your application.
By designing with the Medallion system, you are effectively out-sourcing your CPU design and Linux porting with no up-front NRE fees! That lets your team concentrate on the hardware and software portions of your product that your customers see. The result is that you can create a higher-quality product in a fraction of the time (and cost) of designing everything yourself from scratch! Plus, the interchangeable modules extend product life-cycle times.

For more details, or to request further information, please visit our Web site at <medallionsystem.com>, call 888 TECHSOL (888 832 4765) or 604 946 8324, or e-mail <sales@techsol.ca>.
Techsol is headquartered in Delta, British Columbia, Canada, where the mighty Fraser River meets the Pacific Ocean.