Techsol Product Announcement: SA2410E Medallion CPU Module
Techsol New Product Announcement: Techsol's Enduring Medallion ARM SOM Gains Integrated Ethernet Support
Techsol is proud to announce the SA2410E Medallion CPU Module.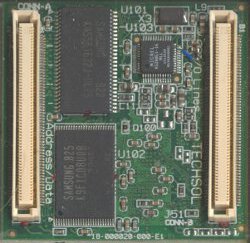 Vancouver, British Columbia, Canada - September 28, 2011
While the Medallion CPU Module line is well known as the longest‑running ARM System on Module (SOM) or Computer on Module (COM), it has not had integrated Ethernet as an option. That is, until now.
This full‑featured ARM‑9 CPU module has all the features you'd expect — including USB Host & Device, LCD & Touch, SD/MMC, IrDA, SPI, I²C, UARTs, 32‑bit bus, etc. and now Ethernet. The Ethernet feature uses a Micrel KSZ8851‑16MLL Fast Ethernet controller supporting 10/100 Mb/s automatic detection and switching and has lines for link and activity LEDs. Ethernet is the latest in a long list of enhancements since our HY7201 Linux CPU module, which began shipping in 2001. "This proven CPU provides incredible value", says Brian Empey, P.Eng., CEO of Techsol. "Not only does it provide higher performance at lower clock rates and power consumption, but we've added additional features to maximize battery life, including a miniature on‑board switching supply for the CPU's core voltage. We've also added capacitor backup for the on‑board RTC to handle battery changes. And we offer up to 2 GB of on‑board flash memory. All in a package less than 2 inches square!"
Surprisingly, Techsol has been developing Linux 2.6 drivers for the SA2410 since June of 2004! "Our Medallion Linux for Samsung ARM‑9 processors has been deployed in high volumes in credit card payment terminals for America's largest player in that market. Since the launch of the SA2410 in 2005, Techsol has also shipped many tens of thousands of SA2410 Medallion CPU modules, which are in operation on most continents and in often harsh conditions. We have a reputation for the most stable and best‑supported Embedded CPU modules, and that's a high standard to live up to!"
Dimensions: Width: 50 mm, < 2″ Height: 50 mm, < 2″ Thickness: 9 mm, < 0.4″
GUI & SW options include:
Linux Framebuffer (FB), operating in 16‑bit, 65,536‑color mode
X11 (Xorg) on FB for standard Linux/Unix graphics
FLTK on X, for a full‑featured, extensible, yet Free GUI
GTK+ on X, for full PC compatibility
Web Browsers allow HMI applications without compiling code
And Python support (including PyGTK) enables rapid application development
WHERE CAN IT BE USED?
Techsol's customers have deployed the SA2410 in myriad industrial applications. They power handheld computers, medication dispensers, and portable military communications. They are in FDA‑approved devices, and in most nuclear power plants in Canada and the USA. They are in AVL applications ranging from tracking high‑end sailboats, to monitoring fleets of utility vehicles. The SA2410 is very popular in remote monitoring applications, with database support, Web servers, and all those things you'd have in a PC‑type computer, but at lower cost, size, and power consumption.
WHAT DOES IT COST?
Pricing for units with 32 MB RAM, 128 MB NAND, on‑board power, reset, etc.:
| Order Quantity | Unit Price (standard 200 MHz speed) |
| --- | --- |
| 10 | $139 |
| 100 | $119 |
| 1,000 | $109 |
| 10,000 | under $100, contact us for a quote. |
Every unit is tested running Linux before it ships! Single units of the SA2410E are available as part of various development kits with full SW development tools and support. Call for pricing.
Development kits are available from stock. Production volumes are typically available in 6 to 8 weeks.
Embedded Engineering is the same all over the world. Engineers face the same challenges of having too much to do, and not enough time or money to do it with. Techsol's Medallion Classic and TSC modules address this issue and provide a solution that extends into the production stages of a product, not just the proof‑of‑concept stage like most SBCs.
Techsol's Medallion system is unique in the embedded computer world.
The Medallion single‑board computer product line encompasses multiple CPUs, and different configurations with the same CPU. However, the pin‑out and form factor remain the same, even after 10 years.
And the TSCM will also have a similar long availability for "planned NON-obsolesence".
There is one Medallion module which is best matched to your application.
By designing with the Medallion system, you are effectively outsourcing your CPU design and Linux porting with no up‑front NRE fees! That lets your team concentrate on the hardware and software portions of your product that your customers see. The result is that you can create a higher‑quality product in a fraction of the time (and cost) of designing everything yourself from scratch! Plus, the interchangeable modules extend product life cycle times.
For more details, or to request further information, please visit our Web site at <medallionsystem.com>, call 1 888 TECHSOL in North America, or 1 604 946 8324 and ask for Ashley or Brian, or e‑mail <sales@techsol.ca>.
Techsol is headquartered in Delta, British Columbia, Canada, where the mighty Fraser River meets the Pacific Ocean.